Winnersh Triangle works 'causing cracks in house'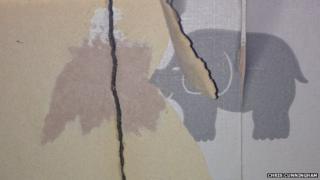 Large cracks have appeared in the walls of a couple's house, which they say are caused by vibrations from nearby demolition work.
Chris Cunningham and Rose Murphy live near Winnersh Triangle, Wokingham, and say their house has been shaking since the work started.
Construction company Winvic are removing concrete slabs to make way for new office blocks.
The company has agreed to monitor vibration levels at the site.
'Who will pay?'
Mr Cunningham, 48, said: "The work started last week and cracks started appearing in the walls.
"The cracks are quite severe and they weren't there until the construction work started.
"It's loud but the noise is bearable. It's the vibrations which concern us most.
"My questions are 'who is responsible?' and 'who will pay to have them repaired?'. There has been damage to my house and I want to know why."
The work goes on all day and their bed shakes when the work starts.
The house was built in the late-80s and a large crack in the main bedroom is an inch wide and has spread to the living room below.
A number of smaller cracks have appeared throughout the house.
Mr Cunningham said: "Every so often you can hear a big bang at the site and the whole house shakes. We can feel the vibrations every couple of minutes."
Alf Webb, a neighbour of Mr Cunningham, said he had noticed two hairline cracks in the walls of his house and the pictures on the walls had been shaking due to the vibrations from the building work.
A spokesman for Wokingham Borough Council said it was a private matter and the residents would need to speak to the developer.
Winvic has been contacted for comment.