Parents open Wokingham's first free school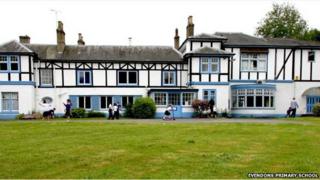 A free school will open two years after parents began a campaign to have one in their community.
Wokingham's first free primary school will hold a celebration event later, before lessons begin for its 100 pupils on Thursday.
Evendons Primary School was set up after a group of parents failed to get places for their children at the schools closest to their homes.
One of the founders described the process as "a long journey".
Evendons Primary is based in the former Whitehouse Prep School.
Head teacher Patrick Pritchett said there was already a waiting list for the school, which will eventually have 350 pupils.
He said: "We have got some brilliant, really experienced teachers and the parents have really got behind us, which is encouraging."
'Proud day'
Free schools are state-funded schools and run outside of local authority control, receiving their funds directly from the Department for Education.
Helen Thorndyke, one of the parent founders, said: "It has been a long journey to get here, so it is going to be a proud day.
"At first I wasn't sure whether we would be able to get enough parents interested, but we have ended up with a group of 15."
Her son Daniel, six, will start Year 2 at Evendons and her daughter, Charlotte, four, will go into reception.
She said: "The enthusiasm and support from local parents has been fantastic. Also, we are saving a beautiful building with nice grounds, so the local community got behind it too."