River Thames Whitchurch Bridge will reopen in September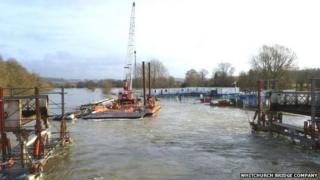 A bridge over the River Thames will reopen next month after reconstruction work that has overrun by months and cost more than £6m - £2m over budget.
Whitchurch Bridge, which closed last October, will reopen on 26 September.
Its operator said it understood the inconvenience the closure of the bridge between Whitchurch-on-Thames and Pangbourne had caused local residents.
But it said it was confident the 6,000 drivers who used the route daily would return to it.
The 112-year-old toll bridge has been closed since last October.
'Very relieved'
The work was originally due to finish in April but was delayed by flooding and river conditions in December.
It also cost £2m more than was originally estimated.
Geoff Weir, from the privately-owned Whitchurch Bridge Company, said: "We will all be very relieved that the bridge is going to open.
"We have said all along that we very much regret the inconvenience cause to local people, so we are very pleased that we can give a date."