Coldstream Guards parade in Windsor for Afghan homecoming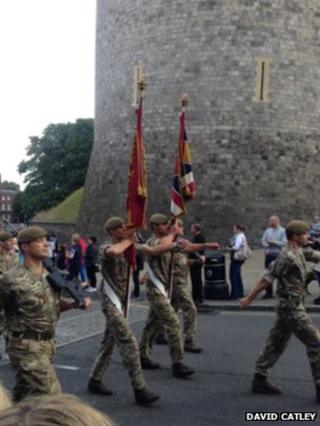 Soldiers from the Coldstream Guards have marked their return from Afghanistan with a homecoming parade.
About 300 troops, accompanied by the Band of the Irish Guards, marched through Windsor from their barracks in the town.
The battalion had been providing security for the Afghan presidential election and training army officers.
Commanding officer Lt Col Toby Till said the parade was a "pat on the back" for his troops from the Berkshire town.
"There is nothing better than seeing the local population, family and friends giving you a clap - you can be proud of everything you've achieved and go away with a real sense of purpose for what everyone has done over six months."
He said it was a "great relief" the battalion had not suffered any fatalities on what had been its third tour of Afghanistan.
The soldiers, drawn from three divisions of the 1st Battalion Coldstream Guard, marched in battle fatigues, through the centre of the garrison town, past the walls of Windsor Castle on the 20-minute route.
Mayor of Windsor Richard Kellaway, who took the salute at the Corn Exchange, said: "We are very proud to have the guards with us."