Woman discovers boa constrictor in new car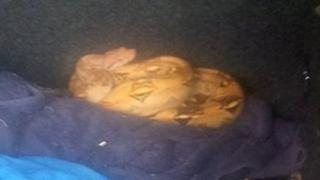 A woman has described how she found a boa constrictor in the boot of her newly-bought car.
Charlie Wise said she was "petrified" after the discovery in the boot of her £200 VW Golf in Thatcham, Berkshire.
The snake, which she named Starvin' Marvin, had been in the boot for two months and was severely dehydrated but was taken to a rescue centre.
Mrs Wise, a childminder, bought the car for work but is now too scared to use it and swapped cars with her husband.
Mrs Wise's husband Guy said he thought the reptile was a toy initially and tried to throw it at his wife.
Mrs Wise, 23, said: "We were both petrified. The car was full of rubbish and we opened the boot and the snake was curled up in the corner.
"We did think it was a toy at first.
"He could hardly move and the only reason we knew it was alive was that its tongue came out."
Graham Martin, who runs Berkshire Reptile Rescue, offered refuge to the snake.
He said: "It had shed skin all over the back of the car but snakes need moisture to shed their skin so there were patches that hadn't come off.
"He needed to drink urgently but snakes don't need to eat very often."
He said Marvin was blind in one eye as the reptile's skin had not shed properly. However, he said this would heal.
Mrs Wise said: "I have refused to drive the car now. Graham said it was a male but it is hard to sex a snake. I'm scared - there will be babies in the car."
It is unclear how old the reptile is but males can grow up to six feet long.
Mrs Wise said she had contacted the owner of the car about the discovery, who said he had lost his snake two months ago but had made no effort to retrieve it.