New flood defences in Thatcham follow 'one in 100-year' storm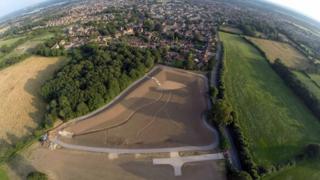 Flood defences built after a "one in 100-year storm" in a town in Berkshire have been completed.
A 1.7 hectare basin and a raised earth embankment that acts as a reservoir have been built in north Thatcham.
In 2007 Thatcham was devastated by severe floods, with about 1,000 homes damaged by flood water that rose to 4ft (1.2m) in places.
The flood defences are designed to provide protection during extreme weather of this kind.
West Berkshire Council described the weather as a "one in 100-year storm".
Designs for further "attenuation basins" at Tull Way and Dunstan Park are currently being developed.
'Dreadful flooding'
The reservoir at Cold Ash Hill has a storage capacity of 25,000 cubic metres (5.5 million gallons) and is designed to control the flow of water entering the existing storm water sewer under Thatcham.
West Berkshire Council said it would store flood water and release it slowly once a storm has passed.
The reservoir will normally be dry apart from one corner which will be permanently marshy and planted to provide wildlife habitats.
The majority of funding for the £800,000 flood defences came from central government and West Berkshire Council, with contributions from Thatcham Town Council and Cold Ash Parish Council.
Richard Benyon MP said: "This is an excellent scheme for Thatcham.
"I remember the dreadful flooding of seven years ago and continued investment in our flood defences is crucial to ensure that our community does not have to live through a repeat."