Work to widen Reading's A4 in Calcot begins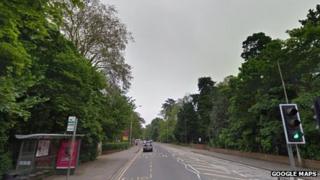 Eight months of work has started to widen one of Reading's busiest roads.
Delays to motorists using the A4 in Calcot, which is used by nearly 30,000 drivers a day, will be "unavoidable", West Berkshire Council has warned.
The £2.9m work will see an extra westbound lane installed between Langley Hill and Royal Avenue towards junction 12 of the M4.
Two-way traffic will be maintained when possible, with temporary traffic lights only used during off-peak times.
The eastbound carriageway of the A4 will also see lane improvements with longer merge and slip lanes to help traffic flows while noise-reduction fencing will be installed on the south side of the road.
Councillor Alan Macro, West Berkshire Council member for Theale, said extra lanes were desperately needed but he shared residents' concerns that other roads may become rat-runs during the work.
He said the council was considering measures to prevent this from happening.