Frimley Park Hospital sorry after medical notes mix-up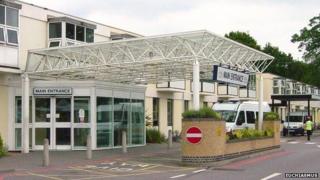 A woman who was wrongly told she had Alzheimer's and cancer when her medical notes were mixed up with those of her dead husband has received an apology.
Kathy Patient, 71, from Bracknell, Berkshire, went for a CT scan at Frimley Park Hospital last Friday due to heart problems and blood clots.
She said before the procedure the nurse was insistent she had a number of other conditions.
The Surrey hospital said it was sorry and was investigating.
Mrs Patient said: "The nurse said you've had [a CT scan] done before. I said, 'no I haven't'; she said, 'yes you have'.
'Started crying'
"She asked me to confirm my date of birth and name. She left me for few minutes, then came back and said, 'you've got Alzheimer's and cancer'. I said, 'no I haven't'; she said, 'yes you have'."
The nurse later returned and admitted she had mixed up Mrs Patient's records with those of her 80-year-old husband - who died 18 months ago.
"At this stage I started crying because I was upset; losing my husband was very hard," Mrs Patient said.
"I don't want to people to suffer the way that I did. Imagine if they were having a serious operation [and made a mix-up] - this could be devastating."
The hospital, which sent a bouquet of flowers, said it was "extremely sorry" and was taking the matter "very seriously".
"We are currently investigating how Mrs Patient's late husband's history became attached to hers on our electronic radiology record," it said.
"This is not something that has ever happened before and we want to make sure it does not happen again."