Councillor Lesley Hayward 'no excuse' not to repay council cash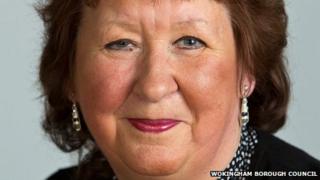 A councillor has "absolutely no excuse" not to pay £5,000 back to a council before being sentenced for benefit fraud, a judge has said.
District Judge Davinder Lachhar said Lesley Hayward must repay the money from savings.
She admitted three counts of benefit fraud totalling £44,600 in July and has already repaid more than £35,000.
Sentencing of the independent councillor on Wokingham Borough Council has been delayed until 5 September.
At a sentencing hearing at Reading Magistrates' Court the judge said it was "wrong in principle" that the taxpayer was still owed money when Mrs Hayward had savings of more than £6,000.
She previously admitted two counts of knowingly failing to declare a change in circumstances to the council and the Department for Work and Pensions and one of making a false statement to obtain Pension Credit. The offences dated between 2004 and 2012.
She told the authorities she lived alone, when she lived with her partner.
Mrs Hayward, 63, of Kingfisher Drive, Woodley, also sits on the Woodley Town Council.
At a hearing on 12 August the judge discovered she had savings and told her to contribute at least £5,000 towards the £8,000 she owned the borough council.
Mrs Hayward paid £500 since then and continues to pay an agreed £20 a month.
'Future expenses'
She was due to be sentenced earlier but the district judge said: "In light of the offences it seems wrong in principle she should have this money in a bank account.
"She is being kept by the public purse as well. She has got money sitting there so she has absolutely no excuse."
Paul Cantrill, defending Mrs Hayward, said she had not paid the council back as she needed the money for bills and future expenses.
The councillor receives a state pension and expenses from the council of roughly £135 a week.
If she is given a custodial sentence of more than three months the council can take action to remove her as a councillor.