New Wokingham council roadwork rules for utility firms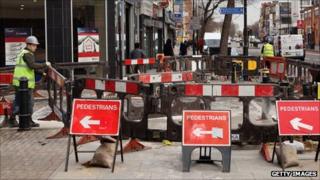 New rules aimed at forcing utility companies to ask for permission to dig up roads are set to be introduced by a Berkshire council.
The permit system, due to start from January, will give Wokingham council power to set strict conditions.
The borough said it had almost 10,000 notices to dig up roads last year and fined firms £12,000 for overrunning.
Meanwhile, Reading council has told BBC News which firms topped its tables for overrunning roadworks.
2010/11 - Southern Gas Networks
2011/12 - Thames Water
2012/13 - Southern Gas Networks
2013/14 - Virgin Media
Thames Water and Virgin Media declined to comment, but Southern Gas Networks said: "Sometimes it's not until you start digging in the road that you get a real feel for the extent of the job.
"We do have regular review and coordination meetings with the local councils to discuss our work and durations."
Wokingham has agreed to adopt the South East Permit Scheme which is used by a number of other councils.
Councillor John Kaiser said: "Currently we can't say no - it's enshrined in legislation that they have the right to dig up roads to enable them to keep utilities running.
"The permit scheme gives us power to say to people you will only do it on this day. Or if we see some other roadworks are scheduled nearby we can make them do it at the same time."
Mr Kaiser said firms would still be able to dig up roads without a permit in the case of emergencies.