Broadmoor Hospital redevelopment plans go on display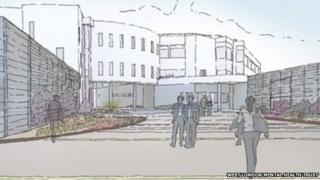 Detailed plans about the £242m Broadmoor Hospital redevelopment have gone on show.
The work to build 16 new wards at the high-security psychiatric hospital in Crowthorne will be completed in 2017.
Visitors to the open days can see a short film showing the sequence in which old parts of the hospital will be taken down and new ones constructed.
The first event is at Meadows Shopping Centre in Sandhurst, with the second on Thursday at Crowthorne Library.
The latest open days are being used as a way to keep residents up to date on new developments and how the project is progressing.
'Quality of care'
Vivienne Mowatt, Broadmoor Hospital's deputy programme director, said: "We've had scale models produced, artist illustrations sketched and computer images designed to show everyone how the new building will significantly improve the quality of care delivered and the working environment for our staff."
Steve Giles from Kier Construction, which is carrying out the work, said: "It's only natural that local people want to access as much information as possible given the importance of this project."
The new hospital will provide accommodation for 210 patients. Current patients will remain on site throughout the redevelopment.
The trust previously said many "core aspects" of the site, such as its Grade I listed gatehouse, would remain.