Ascot roundabout WW1 commemoration poppy stolen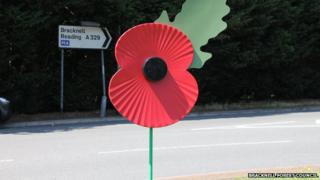 A giant poppy sculpture commemorating the beginning of World War One has been stolen from a Berkshire roundabout.
The 6ft (1.8m) metal and fibre glass poppy was taken from a roundabout on Sheet Street Road between Windsor Great Park and Ascot.
It was one of 25 poppies installed at roadside locations by Bracknell Forest Council at a cost of £550 each.
Police said whoever was responsible had "gone to great effort" to remove it from its concrete base.
They said the poppy, which has no recycle value, was reported stolen on Tuesday but may have been taken before then.
Bracknell Forest councillor Dorothy Hayes said the poppies had been "hugely popular".
"We're obviously very disappointed that someone has taken one of the poppies and we would like it back," she added.
The poppies are intended to be re-used during future Remembrance Sunday events.