AWE Aldermaston remains under scrutiny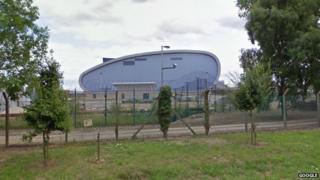 A nuclear weapons factory will remain under increased scrutiny by a government nuclear safety watchdog.
The Atomic Weapons Establishment (AWE) at Aldermaston was served an improvement notice in 2013 by the Office for Nuclear Regulation (ONR) because of "ageing facilities" and a "number of safety cases".
It has also pressed the site to deal with 1,000 drums of nuclear waste.
AWE said it was working with the ONR to manage its radioactive waste safely.
In 2013, the facility was criticised for leaking radioactive gas into a stream, although the Environment Agency said the low levels of radiation did not represent an environmental hazard.
It was also fined £200,000 for a safety breach during a fire at the site in 2010.
'Progress made'
The ONR report said: "We are currently investigating AWE Aldermaston's apparent failure to meet a formal regulatory requirement... that required the reduction in volume and encapsulation of 1,000 drums of intermediate level waste by February 2014.
"We are also in discussion with AWE about events relating to shortfalls in the operability and availability of building fire detection systems.
"For both matters we will consider whether enforcement action is appropriate."
However, it added that there were "no immediate safety concerns" and that progress had been made.
In response an AWE spokesman said: "Delivering safe and secure operations is a core priority for AWE and it fully supports the ONR's focus on continuous improvement, effective hazard control and maintaining high standards."
The Berkshire factory is one of five UK locations shortlisted by the MoD to store nuclear waste from submarines.