Magna Carta Island in the River Thames goes on sale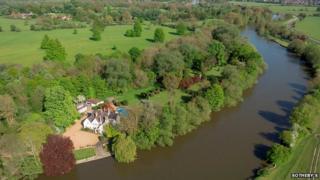 An island in the River Thames in Berkshire - which may have been where the Magna Carta was sealed in 1215 - has gone on sale for nearly £4m.
Magna Carta Island sits in the river opposite the Runnymede Meadow, where, according to historians, the rebellious barons camped ahead of the deal.
King John and his men are thought to have gathered opposite for protection.
The island comes with a Grade II-listed house, a cottage, outdoor swimming pool and mooring for a boat.
A small bridge connects the 3.72 acre (1.5 hectare) island, which has a price tag of £3,950,000, to the mainland.
A stone, on which it has been claimed the charter was signed, lies today in a specially-built Charter Room which forms part of the main house.
Its walls are hung with the crest of King John and those of the 25 barons elected to keep the Magna Carta safe, including Richard de Montfichet who was the owner of the island , which was part of the Manor of Wraysbury.
The house was built by George Simon Harcourt, Lord of the Manor and the Sheriff of the County in 1834.
What is Magna Carta?
Magna Carta - meaning Great Charter - enshrined basic freedoms and limited the King's authority.
The publication has its origins in a dispute between King John and English barons and guaranteed basic freedoms and property rights to "free men" while subjecting the sovereign to the laws of the land for the first time.
It is regarded as the cornerstone of liberty in the English-speaking world and the source of fundamental concepts of law, including trial by jury, protection against excessive fines and cruel and unusual punishment.
The first document was sealed - not signed - in 1215 by King John. The final one was issued in 1300. Seventeen versions survive from the 13th Century.
While the charter itself names Runnymede as the place it was sealed, the island may have been considered part of Runnymede at the time.
Stuart Cole, from Sotheby's International Realty, said: "This is a once-in-a-lifetime opportunity to buy a piece of world history where the rule of law was first forged.
"Not only is Magna Carta Island a idyllic private island in the Thames with 402 metres of prime river frontage, it is widely acknowledged to have been the site of the signing of the Magna Carta, perhaps the most significant charter in history."