'BB gun' sparks firearm alert in Reading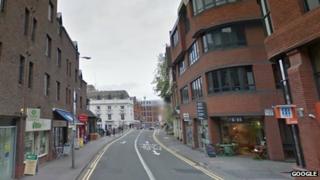 A man has been arrested after a firearms alert in the centre of Reading.
Armed officers, backed up by a police helicopter, took part in a search operation after a man was reported to be carrying a firearm in Kenavon Drive at 11:30 BST.
An 18-year-old man was later detained in Duke Street on suspicion of possessing an imitation firearm.
Thames Valley Police have recovered weapon, believed to be a BB gun.