Swan numbers on the River Thames 'affected by floods'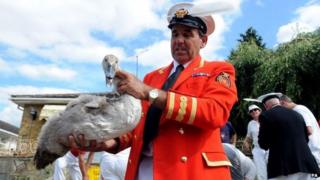 The annual census of the swan population on the River Thames has arrived in Berkshire.
The four-day Swan Upping event, which ends in Oxfordshire on Friday, also sees the health of the birds checked.
Organisers have already noted the number of cygnets has reduced by 20% from last year, due to reasons like shootings and dog attacks, they said.
A spokesman added that a number of cygnets were also lost after being washed over weirs in recent flooding.
'Lost a few'
The Queen's Swan Marker, David Barber, said the birds had faced a number of challenges.
"We have had so many sorts of vandalism, dog attacks, shootings and, of course, the floods earlier in the year," he said.
"Although the floods receded when they were nesting, the young cygnets got washed over weirs because the stream was so strong, so we lost a few that way."
Swan Upping dates back to the 12th Century. The historic ceremony began when the Crown claimed ownership of all mute swans, which used to be considered a delicacy.
It now serves a conservational rather than culinary purpose.
This year's Swan Upping will end in Abingdon, Oxfordshire, on Friday.