'Rival Reading Carnival' plans mooted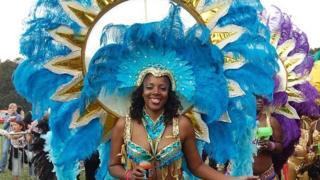 A community group is considering staging an event to rival the 37-year-old annual Reading Carnival.
The Reading Caribbean Cultural Steering Group criticised this year's May event at Prospect Park for having only four floats and "no carnival costumes".
Carnival organisers said they had "stripped it down" as too many people from outside the community were involved.
The carnival was cancelled last year amid claims of lack of resources.
'More local floats'
The steering group's vice-chairwoman, Sonia Walker, said: "Reading Carnival used to be a very popular event. We had people come from London, Oxford, Slough and High Wycombe, and it has dwindled considerably.
"We had very [few] floats and there were no proper carnival costumes."
The carnival attracted about 2,000 people this year but in previous years there were more than 5,000 visitors.
She said the group had had no communication from the official committee, despite numerous attempts to contact it.
She said: "If we have to go down the route of doing an alternative carnival, if we have the support of the community, then so be it."
Carnival committee acting chairman Norman Fider said the event had gone well this year, but that torrential rain had kept people away.
"We're trying to get more local floats involved," he said. "What we've done is stripped it down to have a foundation to work on.
"There's always been people performing from outside the local community, but we wanted to keep it local. [The cancellation] was a blip last year and we've gone back to the drawing board. The way the carnival was going it would have been run into the ground."
He added: "The people in that group should have joined in - not just now, but over the years."