Reading is awarded £1m extra green transport funding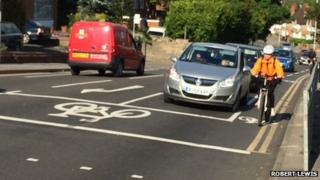 Reading has secured an extra £1m of green transport funding to improve walking and cycling routes.
The council will also recruit a health walk co-ordinator and improve its real-time travel information.
The Reading Cycle Campaign said it was "frustrating" as none of these ideas would "make people comfortable riding on the roads of Reading".
The cash boost adds to the £25m already awarded by the Local Sustainable Transport Fund (LSTF).
Council deputy leader Tony Page said: "Our aim is to provide an even wider range of sustainable travel options for people as they make their way around the town."
Campaign chair Adrian Lawson said: "There's nothing in there that's going to make a difference to anyone wanting to use a bike to get around Reading."
The extra funding follows the council's launch of its Boris Bike scheme, called ReadyBike, and its plan for a cycle and pedestrian bridge over the River Thames.