Plan to scrap Broadmoor Hospital satellite sirens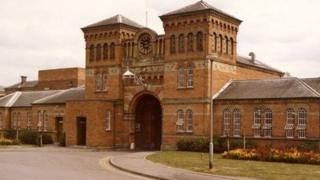 A high-security psychiatric hospital wants to scrap its 62-year-old warning sirens in some surrounding Berkshire towns, new plans have revealed.
West London Mental Health Trust, which runs Broadmoor Hospital, wants to cut seven of its 13 alarms, which alert residents to an escaped patient.
The sirens, tested every Monday at 10:00, were last activated in 1993.
Security director John Hourihan said there was "no reason" to keep the sirens as security had improved.
'Robust security'
The sirens were installed in 1952 after Broadmoor patient John Straffon escaped for 24 hours and killed a young girl in Farley Hill, Berkshire.
Since then, a second perimeter fence has been added, as well as additional alarm and control systems.
The trust wants to keep the sirens in the area local to the hospital including Crowthorne and Sandhurst.
Mr Hourihan said: "Security is very, very robust at the hospital and there is no need for sirens at all.
"But what we do recognise is there is a great deal of public anxiety and public concern, having had the sirens for so long, that we need to have something.
"So we want to keep sirens local to the hospital."
'Loss of tradition'
The trust said the hospital had arrangements with the local authorities to notify all schools if a patient were to escape.
It said the hospital also had emergency plans in place with Thames Valley Police.
At a Bracknell Forest Council meeting of the overview and scrutiny commission on Thursday night, chairman Ian Leake said decommissioning the alarms would be "a loss of tradition and a loss of history".
"It is not going to be the end of the world but if it happens it would be a pity, that is my personal opinion," he said.
A £242m redevelopment of Broadmoor Hospital began in January.
Broadmoor has about 200 patients, including Yorkshire Ripper Peter Sutcliffe.