Roxy Music's Andy Mackay gets Reading university award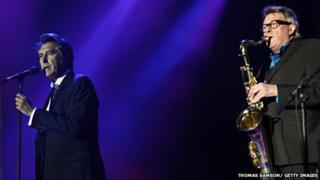 One of the founding members of seminal art rock band Roxy Music has been honoured by the university that made him "cool".
Saxophonist Andy Mackay answered an ad in the Melody Maker, posted by singer Bryan Ferry in 1971, after graduating from the University of Reading.
The university has now honoured him with an Alumnus of the Year award.
Mackay's saxophone is arguably most recognisable in Roxy Music's cover of John Lennon's Jealous Guy.
At Reading Mackay, who studied English and Music, developed his interests in music, literature and fine art.
'Best horn player'
"I learned to be cool at Reading," he said.
He added he had a "great time" at the university.
"Although not a distinguished academic episode I benefited hugely from the unique and extraordinary mixture of brilliant teachers in the English faculty, a music department so old-fashioned that I could not but rebel and an art department full of contemporary experiment where many of my friends were."
Roxy Music formed in 1971 and were propelled into the limelight with their chic and distinctive glam sound, hailed as laying the foundation for future genres including new wave and electronica.
Mackay, who also plays the oboe in Roxy Music, is credited with co-writing many of the band's classic songs including Angel Eyes, A Song For Europe and Love Is The Drug.
He said: "I was indeed surprised to be Alumnus of the Year - I don't think I have ever been recognised for anything since I was voted 'best horn player' in Creem magazine in 1973!"