Flood-prone Loddon Bridge Park and Ride move delayed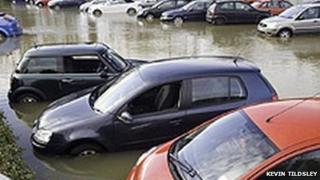 The relocation of a flood-prone park and ride scheme, which costs two Berkshire councils £100,000-a-year each in losses, has been delayed.
Wokingham Borough Council and Reading Borough Council want to move Loddon Bridge Park and Ride to a new site, next to Winnersh Triangle station.
The existing Winnersh site is regularly closed because of flooding.
Wokingham council leader Keith Baker, said the planned autumn opening had been delayed by the sale of the site.
He said the councils would do their "upmost" to work towards a winter opening.
"We have had to cope with the fact that the previous owners sold the site to a new company and they just put things on a temporary hold, while they reviewed everything and we are working through it with them," said Mr Baker.
Reading Borough Council said the building contract had not yet been put out for tender.
Reading's deputy leader Tony Page said: "The legal process we have to go through in awarding tenders means that site works are unlikely to commence on either site until November, so I think it is going to be early new year before we see anything."
Wokingham Borough Council owns Loddon Bridge Park and Ride but both councils run the service.
The project is funded by the government's Local Sustainable Transport Fund and the relocation is expected to cost about £1.5m.