Greenham Common tower plans continue despite resignation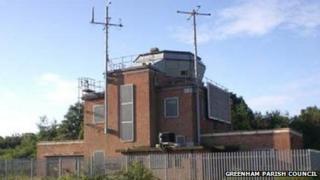 A council hoping to transform a former war airbase into a visitor centre said the project would continue, despite the resignation of its chairman.
Last month, Tony Forward resigned as chairman of Greenham Parish Council in Berkshire amid "increasing pressures".
He had been instrumental in plans to convert a disused Cold War control tower into a tourist visitor centre.
In his resignation letter, he described the project at Greenham Common as "the straw that broke the camel's back".
The council's clerk, John Boston, said he was "saddened" by the resignation and said Mr Forward had been a "valued member of the team", but added the plans would continue.
Mr Forward said he "had not had the support needed to carry out all the projects the council had".
"I never thought I would wake up dreading having to do work on parish matters but it has told me it is the time to go," he said.
Mr Boston said he would not comment on the suggestion by Mr Forward that he had not been fully supported.
Work to convert the disused airbase will begin within the next two weeks with the installation of water, electricity and sewerage.
The council, which received £421,555 from the government to buy and refurbish the tower, hopes it could open by spring next year.
Water damage
Plans to transform the Grade II-listed control tower into a visitor centre were "agreed in principle" in June by West Berkshire District Council.
Mr Boston said progress had been delayed by water damage to the building and protected species of animals living near the site.
Plans for the base, which has been disused since it closed in 1993, include exhibition and office space and a cafe.
Mr Forward said: "I regret not seeing the control tower project through, but that has been the straw, perhaps, that has broken the camel's back."