Clean-up after sewage discharged into River Thames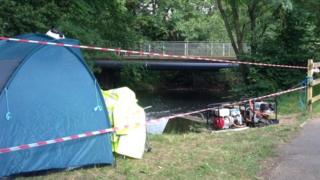 Work is continuing to improve water quality following a sewage discharge into a stretch of the River Thames in Berkshire.
On Tuesday the Environment Agency said the pollution had come from the Maidenhead Treatment Works and had caused fish deaths.
The agency said "remediation works" and further investigations were continuing.
Thames Water said it was "sorry" and blamed a build-up of wet wipes in a pipe for blocking a pump.
The Environment Agency said aeration pumps were still being used to minimise the impact of the pollution.
It added the works had resumed operating normally with only treated effluent being discharged.
A Thames Water statement on Tuesday said the waste that had been discharged had only been through the early stages of the treatment process.
"We're working closely with the Environment Agency to minimise the impact on the watercourse. We're sorry that this has happened and will continue to do everything we can to clean up the river," it added.