Mayor of Reading wants World War One street light switch-off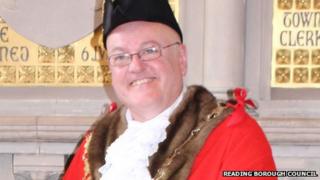 The Mayor of Reading wants to turn off the town's street lights to mark the 100th anniversary of the declaration of World War One.
Tony Jones believes Reading Borough Council should join in the nationwide Lights Out event on 4 August.
Event organisers are asking householders to turn out their main lights at 23:00 BST and replace them with a single light.
Mr Jones said it would be a "fitting tribute" if the town joined in.
However he added that safety would not be compromised.
He said: "The idea came from a discussion with a Reading resident. I have been talking with some of the council officers and we are going to investigate to find out whether it is possible.
"We are looking at whether they can either go out or be dimmed for about five to 10 minutes, as it is still a Monday night in Reading and there is often a lively crowd, particularly in the centre.
"Obviously we do not want to make it dangerous for people."
'Turn off music'
Mr Jones added that local businesses will also be asked to participate.
He said: "We will be asking pubs if they can turn off their music and dim their lights at around 11pm.
"Imagine if you were stood in The Oracle car park and you saw the lights going out and the town largely in darkness. I think that would be a fitting tribute."
The Lights Out event has been organised by 14-18 Now, the official cultural programme to mark the centenary of World War One.