Royal Engineers regiment in Newbury farewell parade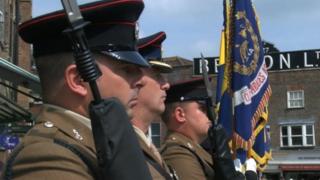 A farewell parade has been held for a Royal Engineers regiment before it leaves the Berkshire barracks that has been its home for nearly three decades.
The parade, in Newbury, is being held for 42 Engineer Regiment (Geographic), which will leave Denison Barracks, Hermitage, later this month.
The Corps of Royal Engineers was granted the Freedom of Newbury in 1997.
Hundreds of people gathered to watch in Pelican Lane, London Road, Broadway, Northbrook Street and Market Place.
Newbury mayor Jo Day said: "It will probably be the last occasion when the Royal Engineers parade through our town.
"The soldiers have been an enormous asset to our town, helping with charity events and supporting our community in so many ways, they will be missed and we wish them well in their new home."
The regiment, which has been based in Hermitage since 1987, will be moving to new barracks in Cambridgeshire.
Denison Barracks will remain open as the home of the Royal School of Military Survey.