New Reading Abbey Quarter funding bid receives backing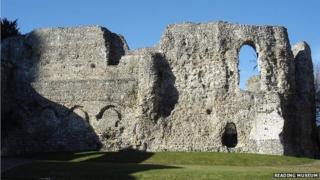 A fresh bid for funding to conserve Reading's Abbey Quarter has secured initial support from the Heritage Lottery Fund.
Two previous bids to protect the ruins of Reading Abbey, in 2012 and again in 2013, failed to attract lottery fund backing.
The new bid seeks a HLF grant of £1.73m, with Reading Borough Council providing £1.36m in match funding.
The abbey was founded by Henry I in 1121, and the king was buried there.
'Rapidly deteriorating'
Buildings in the quarter also include Jane Austen's school and the former Reading Gaol, where Oscar Wilde was incarcerated.
Initial lottery support, also known as a first-round pass, means the project meets the criteria for funding.
Project leaders now have up to two years to submit fully developed proposals to compete for a financial award.
Paul Gittings, lead member for culture, said the HLF endorsement was "fantastic news" as it meant the council could realise its "long-standing ambition to conserve and reopen" the Abbey Quarter to the public.
The Abbey Quarter Project was launched after public access to the ruins was closed in summer 2009.
A condition survey at the time highlighted the "poor and rapidly deteriorating condition of the walls."