WW2 Winkfield bomber crash remembered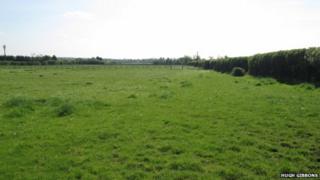 The site of a World War Two air crash in Berkshire has been dedicated as a "field of thanksgiving".
The 10 US crewmen on a Flying Fortress bomber survived when it crash landed at Winkfield after a raid over Germany.
The little-known story of the crash was researched by metal detector enthusiast Hugh Gibbons after he found gun cartridges in the soil.
He said the field would be a tribute to the "hidden heroes" who promote reconciliation after wars.
The B17F bomber, #3351Z, was attempting to land at the small RAF Winkfield airfield on 14 October 1943 when it skimmed a country house and crashed.
The crew from 407th Squadron had been taking part in the Schweinfurt Raid, one of the most fierce airborne battles of World War 2.
Following his chance discovery of brass cartridges on the site in October, Mr Gibbons embarked on an effort to unearth the story behind the crash.
'Forgotten event'
The burnt wreckage was removed straight after the crash and the airfield repaired.
"There is no folk memory of the crash - it was a totally forgotten event, buried by history," said Mr Gibbons.
Mr Gibbons found local people who recalled seeing the crash as school children. He also tracked down and contacted the families of the crewmen.
"I've found most returned to long and happy family lives in the USA," he said.
The site, now part of an equine centre, was dedicated as a "field of thanksgiving".
A time capsule containing one of the original cartridges as well as rivets from the Boeing production line in Long Beach where the B17 was made, were buried during a special ceremony.
Churches in Schweinfurt sent soil from a memorial garden.
Mr Gibbons said he hoped to invite relatives of the crew to visit the site in future.