Oak processionary moth spraying in Berkshire 'kills blue tits'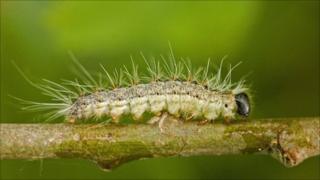 Bacterial spraying to eliminate a toxic caterpillar in Berkshire woodland may have led to a reduction in blue tit numbers, a charity has said.
The Forestry Commission sprayed separate woodland areas in the county last month and last year to eliminate the oak processionary moth.
The moth damages oak trees and is harmful to humans.
But the charity Buglife says spraying could be causing a drop in blue tit numbers by killing their food source.
The Forestry Commission said it was "too soon to draw conclusions, and other factors, such as the weather, could also have influenced birds' breeding success".
Buglife says a wildlife survey from the commission, which recorded a number of empty blue tit nests in Herridge's Copse, Pangbourne, was an "indication of a problem".
Vanessa Amaral-Rogers from Buglife said: "The problem is they sprayed last year when they only had one nest at the edge of the woods, and they removed that, so aerial spraying seemed a heavy-handed way to kill something that might not have been an issue.
"During the spraying last year it would have been a time the blue tits were feeding their young, so this is a possible cause of why there are fewer numbers now."
Monitoring wildlife numbers
Last year Natural England allowed the commission to spray Herridge's Copse with the bacterial agent Bacillus thuringiensis from a helicopter.
A condition of the spraying was that the commission would monitor the numbers of bats, moths and birds in the woodland for five years.
The commission did not conduct a survey of wildlife before the spraying but instead compared it with Horns Copse, also in Pangbourne, which has not been sprayed.
It found eight nests at Herridge's Copse but only one family of blue tits, and three nests in Horns Copse with six to seven family groups.
A Forestry Commission spokesman said: "We fully share Buglife's concerns, which is why we have worked with Natural England and others to ensure that the treatment has the least possible effect on other wildlife.
"Our five-year monitoring programme at Herridge's Copse will give us a more accurate picture of the long-term effects.
"What is clear is that the consequences of not tackling oak processionary moth would be much more serious for Britain's woodland wildlife, and for people and animals living and working close to oak trees."
Parts of Sulham Woods in Reading have also been sprayed.