Network Rail prepares to electrify Crossrail in Berkshire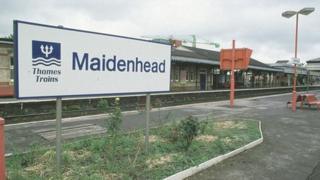 Network Rail is to carry out preparatory work ahead of the electrification of a section of the Crossrail railway line in Berkshire.
Piled foundations are to be installed between Maidenhead and Burnham every 50 metres along the track, covering more than 13 miles.
The work is scheduled to take place at night from Sunday until 29 August.
Network Rail said levels of disruption would vary, but there would be periods of "intense activity".
A spokesman said the company would attempt to "minimise any unnecessary environmental impacts" and those working on site would be briefed "about the need be considerate to our neighbours and keep noise to a minimum wherever possible".
Network Rail said the works will enable existing infrastructure to support the new Crossrail services.
A second stage of works will take place later in the year and will involve the installation of the overhead electric line structure and wires.
Network Rail said the work, which will last until 2016, will be less noisy than the first stage.