Deaths prompt raids on suspected puppy farms in Berkshire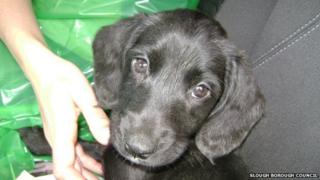 Raids have been carried out on two suspected puppy farms in Berkshire after a number of dogs died days after they were bought.
Slough Borough Council, the RSPCA and Thames Valley Police searched addresses in Glentworth Place, Chalvey, and St Paul's Avenue, Wexham, on 21 May.
They found two young Labrador puppies in serious need of medical attention.
A Chihuahua, a Beagle, four adult Lurchers and two more Labrador puppies were also rescued.
One of the very young Labrador puppies found was so ill with the parvovirus virus it had to be put to sleep straight away.
The two puppies were found during a "test purchase" carried out at the Chalvey address before the raids.
'Fur problems'
The surviving puppy, nicknamed Tepee after "test purchase", and the other dogs were rescued under the Animal Welfare Act.
Ian Blake, neighbourhood enforcement team leader, said: "The adult dogs were found in a pen at the bottom of the garden, with only an upturned wheelie bin for shelter. They were all skinny, hungry and had skin and fur problems due to the poor conditions they had been kept in."
The raids came after people reported buying puppies that became very sick or died days after they were bought.
No dogs were found at the Wexham address.
Officers seized mobile phones and paperwork from both addresses and the occupants will be formally questioned as part of ongoing enquiries.
The dogs are now being looked after at kennels.
The council has been working with the RSPCA and Thames Valley Police to shut puppy farms down.
They believe the puppies are bred elsewhere in England and Wales and transported to Slough for sale and distribution.
The RSPCA said it was investigating.