EastEnder backs 'underdog' England World Cup 2014 song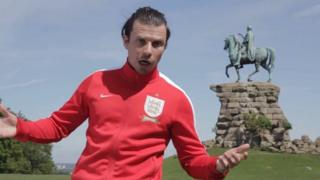 Former EastEnders actor Neil McDermott is spearheading a campaign for an alternative England World Cup anthem.
McDermott, who played Ryan Malloy in the BBC soap, acts the part of Mr England in the videos to Bring Back The Roar, by unsigned band Sound Champion.
He said the track was a reaction to the official song - Take That's Greatest Day, sung by a host of British singers.
He added: "We felt there wasn't really one of those songs for the fans that we usually get around a World Cup."
'Underdog team'
The actor, who lives in Datchet, Berkshire, called Bring Back The Roar an "underdog of a song".
He said it could help "our undoubtedly underdogs of a national team in Brazil to achieve their and our dreams".
The "fan's video" features Datchet school children, choir singers and families, while Mr England's "rally call" video was filmed mostly in nearby Windsor including the Long Walk by Windsor Castle.
"All our videos have been made using volunteers who wanted to be involved in a potential England World Cup Anthem," said father-of-two McDermott.
His 16-month-old son Roddy and three-year-old daughter Arrabella also feature in one of the videos.
Mr England, who sports a red England football jacket, encourages communities around the country to support the song and introduces a new dance routine inspired by football moves, in particular Daniel Sturridge's famous goal celebration.
"There hasn't been a lot of money involved in making our song," McDermott said, "but there has been a great passion for football and an enthusiasm to create something new and fresh that can capture the imagination."
Sound Champion, from Sutton, is fronted by McDermott's younger brother Kevan.
The song has been supported on Twitter by McDermott's former EastEnders colleagues including Shane Richie.