Labour holds Reading Borough Council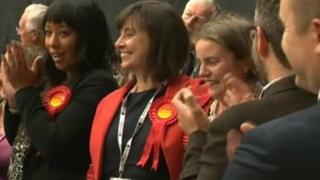 Labour has retained control in Reading, Berkshire.
Of the 16 seats up for election Labour won 11, the Conservatives and the Green Party won two each and the Liberal Democrats won one.
Labour gained five seats, the Tories lost three and the Lib Dems lost two.
Labour have also retained control of Slough, winning 33 seats, with the Conservatives taking eight, and UKIP one. The Conservatives retained their majority in Wokingham.
The Conservatives won 15 seats there, the Lib Dems two, and Labour one.
Both Labour and the Conservatives gained one more seat since the last election, whilst the Lib Dems lost two.
And whilst in Slough the Conservatives gained three seats since the last election, Labour lost four.
Tony Page, deputy leader of Reading Borough Council, said there was a "very strong base for challenging in both the parliamentary constituencies next year, Reading East and Reading West".
"We now have a very strong contingent of Labour councillors in both constituencies who will be working not only to do their job on the borough council, but also to deliver two Labour MPs after next May."
The gains Labour made in Reading were Redlands, Katesgrove, Church, Kentwood and Caversham.
Voters also selected who represents the South East region in the European Parliament.
These results will be announced late on Sunday.