Local elections 2014: Labour look to hold on in Berkshire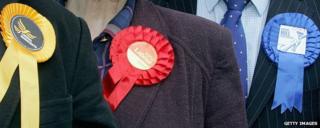 You know the feeling, you're settling down in front of the telly after a hard day when there's a knock on the door.
You open it warily to be greeted by someone with a shiny rosette pinned to their jacket and a fixed grin on their face backed up by a look in their eyes that screams "while I know you don't really want me here I'm going to make sure you listen to me anyway".
Yes it's that time of year again, the political activists are moving like an army of ants around Reading, Slough and Wokingham.
In Reading, Labour is looking to hold on to power with its members keen to tell you that in recent months its administration persuaded the government to bring Crossrail to the town, something political opponents say they should also be given credit for.
In Slough, where Labour dominates the council with 34 out of 41 seats, party supporters will want to take credit for how the town's skyline seems to be changing on a near monthly basis and for the group's efforts to integrate the huge number of Eastern Europeans who've moved there in recent years.
This issue could be fertile ground for the UK Independence Party (UKIP) which hopes to do well there this time round.
In Wokingham, the Liberal Democrat opposition will be hoping to persuade people that the Conservative-run authority really doesn't need to spend £90m-plus on regenerating the town centre, saying it can do something similar for just a third of the price.
So spare a thought for that bright-eyed and bushy tailed political activist who drags you up off your sofa between now and 22 May.
For without their willingness, the chance for you to change the people who represent you in Reading, Slough and Wokingham may well just pass you by.