Collapsed sewer delays on A4 in Reading set to continue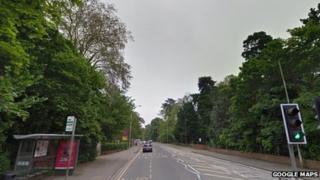 Sewer damage on a major road in Reading is causing misery to motorists as repair works have been extended.
Commuters reported waits of up to an hour on the A4 after the road was closed at Prospect Park to fix a collapsed sewer.
Thames Water, which is carrying out the work, said the repairs will take longer than expected.
Drivers are calling for Southcote Lane to be opened to all traffic, rather than just buses and bikes.
The stretch of the A4 has been closed since Thursday after the collapsed sewer caused a void under the road.
'Ongoing disruption'
It had been hoped it would reopen by the end of this week but the water company said the road may now be closed until the middle of next week.
Becky Trotman, spokeswoman for Thames Water, said: "We're really sorry for the ongoing disruption this work is causing and that it's taking longer than we initially expected. The sewer pipe is badly damaged and it's important that we make sure it is fixed for the long term to avoid more problems at a later date."
A diversion has been set up but motorists have been experiencing severe delays during rush hour.
Reading Borough Council said nearby Southcote Lane would not be able to cope with extra traffic if it was temporarily opened up to cars.
Simon Beasley, the council's traffic manager, said: "It was something which we gave some thought to but the difficulty with Southcote Lane is that it is an estate area and is not designed to carry the volume of traffic that the A4 carries."