Earl and Countess of Wessex open Wokingham's 'Our House'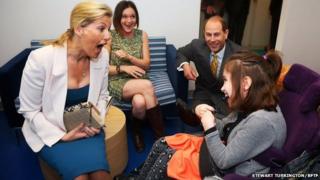 The Earl and Countess of Wessex have officially opened a community centre for children with disabilities as part of a visit to Berkshire.
Charity Building for the Future has spent seven years fundraising to create the "Our House" centre in Wokingham.
The earl and countess visited six venues in Slough, Bracknell, Wokingham, Reading and Ufton Nervet.
The visits were arranged to coincide with Prince Edward's 50th birthday, which he celebrated in March.
Jane Holmes, the chief executive of Building for the Future, described it as "real recognition for all our hard work".
"They were a lovely couple and I loved watching the countess kick off her shoes and climb into the sensory room with the children," she said.
The earl and countess also visited the University of Reading's meteorology department and Ufton Court Educational Trust in Ufton Nervet.
Prince Edward also visited Redwood Technologies and Cawood Scientific in Bracknell, while the countess went to Slough's Creativity In Sport centre.