Pangbourne, Streatley and Moulsford tap water warning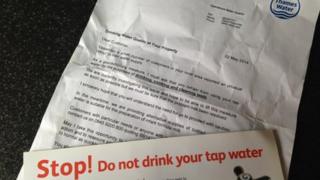 People in parts of Berkshire and Oxfordshire have been warned not to drink tap water due to a strange odour.
Thames Water issued a "do not drink" notice to 1,500 customers in the RG8 postcode in Pangbourne and Streatley in Berkshire and Moulsford in Oxfordshire.
The firm said source of the odour, a newly-repaired water pipe, was discovered on Thursday evening.
Bottled water is being offered while engineers flush water through the network to get rid of the smell.
Simon Earl, Thames Water said: "The risk to public health is very low and this is being done as a precaution.
"We're very sorry for the inconvenience and are working to resolve this as quickly as possible."