WW1 hero Fred Potts statue location announced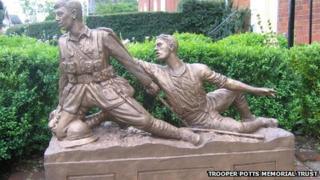 A statue to commemorate the only man from Reading to win a Victoria Cross medal is to be located in the town's Abbey Quarter, it has been announced.
The Trooper Potts VC Trust has been raising funds for a memorial to Fred Potts, who was recognised for rescuing a comrade during World War One.
The trust and borough council have agreed on a location outside Forbury Gardens, opposite the Crown Court.
The scheme will cost about £150,000 - £10,000 less than first thought.
Fred Potts and Arthur Andrews were injured during the Gallipoli campaign in August 1915, and hid below the Turkish trenches for two days.
'Space for reflection'
Eventually Trooper Potts, who had been shot in the thigh, used a shovel as a sledge to drag badly-injured Trooper Andrews to safety.
Trust chairman Richard Bennett said: "We will be able to create a memorial, and a significant piece of public art, that is informative, will be seen clearly, provide space for reflection and draw people to this area."
He said the great-nephews of Arthur Andrews - Philip and Robin Andrews - had donated £10,000 towards the cost.
The memorial, which is due to be unveiled on 4 October 2015, is set to include a bronze roll of honour board listing the 400 members of the Berkshire Yeomanry who lost their lives during the 20th Century.
In April a road at the northern interchange at Reading Station was named Trooper Fred Potts Way after the wartime hero.