Reading Thames bridge construction date set for autumn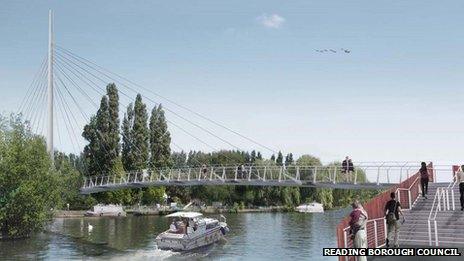 Construction of a new pedestrian and cycle bridge over the River Thames in Reading will start in the autumn.
The bridge, approved by Reading Borough Council in October, will link Christchurch Meadows with the redeveloped railway station.
Council officers will answer questions about the project at Caversham Library on Friday, 9 May between 13:00 and 17:00 BST and on Tuesday, 13 May between 15:00 and 19:00 BST.
The council said it would cost £4m.
Once it is built the structure will be about 120m (394ft) long with a 68m (223ft) span over the River Thames.
A single supporting mast, which will be on the north bank of the River Thames, will be 39m (128ft) high.
Tony Page, Reading Borough Council's lead member for strategic environment, planning and transport, said: "When complete the bridge will be a stunning landmark structure for Reading and provide a vital new link across the Thames for pedestrians and cyclists coming to and from the town centre.
"Construction is due to start in the autumn, but before that the council is planning for the obvious challenges of building such a large structure.
"That will involve some temporary disruption in terms of moving machinery and materials on to the site, but routes have been carefully planned around minimising disruption for local residents and Central Caversham, and for people who regularly use Christchurch Meadows."
Seven 30-year-old Lombardy Poplar trees will be cut down to allow access to the construction site, but they will be replaced.
The bridge will be funded through a successful £20.7m bid from the Local Sustainable Transport Fund (LSTF).
Related Internet Links
The BBC is not responsible for the content of external sites.