Wokingham station building has 'serious structural problems'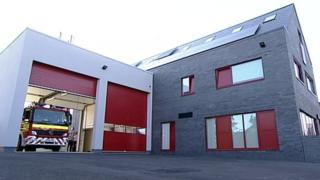 A two-year-old fire station in Berkshire, built at a cost of £1.5m, has "serious structural problems", it has been revealed.
The base for Wokingham crews was built in 2011 but the concrete floor of the engine bay is said to have cracks in it and the electric doors are faulty.
Chief Fire Officer Andy Fry said it had "not been built well enough".
He said he was in talks with contractors Dawnus but "residents would not see a deterioration of service".
The Easthampstead Road fire station, which operates on a 24/7 basis, was the first to be built in Berkshire in 20 years.
Mr Fry, who took up his post as head of the Royal Berkshire Fire & Rescue Service in October, said he was aware of the building's issues at the start of his new role.
"We're not talking about a building on the verge of falling over but we are talking about one with some serious structural problems," he said.
He added: "The building needs to have a fairly substantial amount of work done on it.
"We need to sort out the problem to make sure we have a building which is fit for purpose for a long period of time."
He assured residents the service would "maintain a fire service with a full time fire engine available to respond to emergencies."
Dawnus has not so far commented on Mr Fry's claims.