Plans to demolish Bracknell's 3M building approved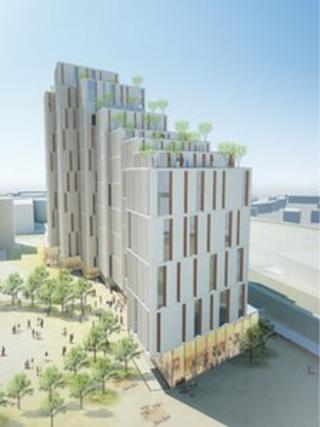 Plans to demolish Bracknell's derelict former 3M building and replace it with a £50m development have been approved.
A 19 storey building housing 311 homes will be built on the site of Winchester House, last occupied by technology company 3M.
Bracknell Forest Council gave the go ahead to the application, which was submitted by Bilrose Ltd.
The original plans were thrown out in 2012 after a deadline for a piece of vital paperwork was missed.
The ground floor of the existing 12 storey tower houses Bracknell market, but there is no provision for this in the approved plans.
A separate planning application has been submitted by Bilrose Ltd to Bracknell Forest Council for land to the south of the Winchester House site, which includes proposals for an outdoor market.
Retail space and a gym will be included in the new building and there will be 350 parking spaces in the Skimped Hill Lane multi-storey car park.
Plans to regenerate Bracknell have been in place since 2002.