Royal Berkshire Hospital staff in blood test dispute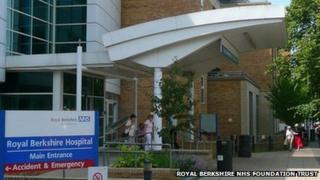 Laboratory staff at a Reading hospital will not test blood samples sent by local GPs as part of planned industrial action by Unite members on Friday.
Royal Berkshire Hospital's pathology staff say the time spent processing samples sent by GPs hampers the care patients receive in the hospital.
The issue forms part of a wider dispute over reduced staffing levels and a new 24/7 shift pattern introduced in March.
The hospital's NHS trust said it was holding "constructive discussions".
The Unite union said 83% of laboratory staff had voted for industrial action.
'Not enough staff'
This will mean that tests from Berkshire GPs and other providers, such as private hospitals, will not be performed at the hospital.
Unite regional officer Debbie Watson said: "This dispute is about patient safety and work-life balance, coupled with a feeling that staff have been ignored when they have aired legitimate concerns.
"We have already warned that there are not enough staff to run the shifts safely."
A Royal Berkshire NHS Foundation Trust spokesman said it would hold meetings "to look at ways of resolving their concerns while moving to an equal seven-day service" as part of a national priority for "a uniform seven-day NHS".
He added the hospital would "ensure" the impact to patients would be minimised if the action goes ahead.