Man jailed for causing cyclists' deaths in Purley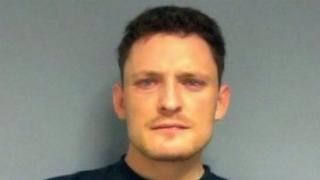 A man who killed two cyclists after driving a stolen car while almost two-and-a-half times over the drink-drive limit has been jailed.
Alexander Walters, 31, struck John Morland, 30, and Kris Jarvis, 39, in Purley Rise, Purley-on-Thames, on 13 February. Both men died at the scene.
Walters was sentenced to 10 years and three months for dangerous driving and aggravated vehicle taking.
He pleaded guilty to a total of seven offences at Reading Crown Court.
The other offences included driving while disqualified and driving while uninsured.
He was sentenced to 12 months for each of the other offences to run concurrently.
Taken cocaine
Walters, of Beech Road, Purley, was driving the stolen BMW at about 70mph (112kph) in a 30mph (48kph) zone when he lost control and hit the two cyclists. He then hit a lamp post.
Tests showed, as well as being over the drink-drive limit, he had also taken cocaine within the previous 24 hours.
Judge John Reddihough told Walters the evidence against him was "overwhelming".
"Seven children are left without a father and two women have been left without partners," he added.
The court was told Walters had fled from police who had been alerted by his partner that he had stolen the car minutes before the crash.
Adopted by vicar
Walters, previously from Cardiff, was a Russian-born orphan adopted by a Welsh vicar when he was 17.
In 2001 he was sentenced to two years custody after phoning a bomb hoax to Heathrow Airport just days after the 11 September terror attacks on the United States.
In 2003 he was jailed for six months after duping several airlines in a plot that mirrored the film Catch Me If You Can, for using a chequebook from his failed company to buy flights to destinations including the United States, Johannesburg and Sydney.
Reading Crown Court heard he had appeared in court on 14 occasions over 67 offences. He had been disqualified from driving for four years in 2010.