Callum Wilson murder: Mum Emma Wilson sentence increased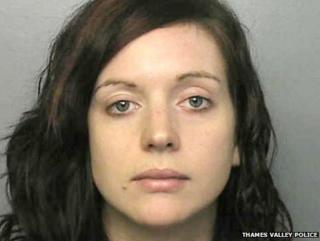 A mother convicted of beating her 11-month-old son to death has had her "unduly lenient" sentence increased.
Callum Wilson died in March 2011 after suffering a detached retina, broken bones, bruising and an "unsurvivable brain injury".
Emma Wilson, 26, from Windsor, Berkshire, has had her minimum term increased from 14 to 17 years by judges at the Court of Appeal in London.
Wilson, who denied murder, was jailed at the Old Bailey in January.
'Tragic' death
She was present in the dock as the three judges agreed with Solicitor General Oliver Heald that her minimum term of 14 years was too low.
Lord Justice Treacy, sitting with Mr Justice Spencer and Mrs Justice Simler, ruled that the "aggravating" factors of the case "considerably outweigh the mitigation", and that the minimum term was "unduly lenient".
Speaking after the hearing Mr Heald said: "This young boy tragically lost his life as a result of the injuries inflicted on him by his mother.
"I asked the Court of Appeal to look again at this sentence, as despite it being a life sentence with a term of 14 years minimum, the fact remains that Wilson denied the murder, and maintained that stance at trial.
"I am glad the Court of Appeal accepted our argument today."
Callum was born on 23 April 2010 and spent the first few months of his life with foster parents.
In November 2010 he was returned to his mother, but on 18 March 2011 he was taken by ambulance to Wexham Park Hospital in Slough suffering serious injuries.
Following medical tests he was taken to the John Radcliffe Hospital in Oxford, where he died on 21 March.
The infant was found with a brain injury, rib, arm and leg fractures and bruising across his face and body.
A serious case review criticised professionals involved with Callum for missing chances to intervene.