Villagers' hope over Eton Wick sewer flooding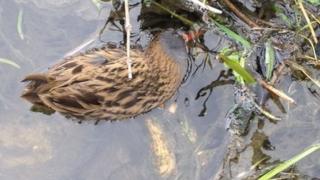 Thames Water are to review a discharge route for wastewater after sewage was pumped into streams around a Berkshire village during the winter flooding.
The discharge into Eton Wick began in December and ended on 11 March during which time the sewer network in Slough was inundated with floodwater.
Residents dubbed the smell the "great stink" and said the village was like an "open sewer" for months.
The announcement came during a public meeting held in the village on Tuesday.
Villager Melanie Critchell said: "I'm really proud of the village for reacting, it's a significant win.
"We still have a long way to go to make sure that it's not shoved under the carpet, but we should never have this situation again."
Rotten smell
If a licence is granted from the Environment Agency, the discharge could be diverted into the Jubilee River.
Sarah Sharpe of Thames Water said: "We need to submit a formal request to the Environment Agency for their consideration.
"We'll start this immediately, and will keep residents updated with our progress."
Villagers, some whose houses sit 12ft (3m) from the water's edge, were surrounded on three sides by the wastewater.
They described the smell, which filled their homes, as like "rotten meat".
According to residents, the pollution led to the death of fish and wildfowl, as well as water with "clear evidence of solids".