Highcliffe Castle derelict East Wing set for restoration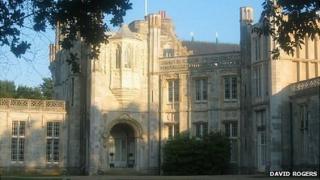 Part of a Dorset landmark is set to be restored and opened to the public following a lottery grant.
Highcliffe Castle, built in the 1830s by Lord Stuart de Rothesay, was mostly destroyed by a fire in the 1950s.
Current owner Christchurch Borough Council has already repaired the exterior and plans to reopen the currently derelict East Wing and display a medieval glass collection.
A bid for £2.9m has received initial support from the Heritage Lottery Fund.
The council, which took over the then derelict building in 1977, plans to carry out the restoration work to the East Wing and Victorian kitchen as well as create a heritage centre.
The grounds of the Grade One listed building will also be improved and is also hoped original furniture, currently held at the Victoria and Albert Museum, could be loaned back.
Ray Nottage, leader of Christchurch Borough Council said: "The project is not merely about restoration but about creating a lasting legacy for Christchurch and an attraction that will support the local economy and be enjoyed for generations to come."