Datchet level crossing lighting tower 'shines' into homes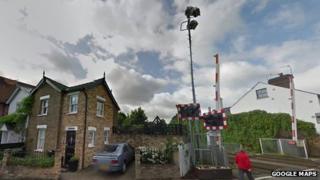 A woman has been battling with Network Rail over a "giant" metal tower that glares an orange light into her Berkshire home.
Juanita Almond from Datchet said the firm had without warning replaced an old level crossing tower with a taller one and moved it closer to her house.
She said: "It is unacceptable. It lights up the entire house and the whole of my patio shines orange."
Network Rail said the light was part of a plan to make level crossings safer.
Mrs Almond said she woke up one morning in January to find the 45ft (13.7m) aluminium tower erected behind her house.
"I had no idea they were going to erect this great beanstalk, or its purpose," she said.
The old level crossing lighting tower by the barrier had been decommissioned and a new one was installed about 20ft (6m) back from the original spot - just by Mrs Almond's house.
Last week Network Rail permanently switched on the light following tests last month.
Mrs Almond said the light of the tower "hovers over the houses clustered around the crossing at a height usually used to light a rugby pitch".
Network Rail said: "We are trying to close down level crossings, but where that's not possible we are are trying to make them safer.
"Anyone affected should contact our customer services, and we might be able to turn or shade the light."
The Royal Borough of Windsor & Maidenhead Council said it had no "legal recourse to take enforcement action and challenge the crossing light".
But transport cabinet member Geoff Hill said the council would investigate the complaints and has contacted Network Rail "in order for the impact of the light to be assessed".