Reading's King's Meadow Baths renovation plan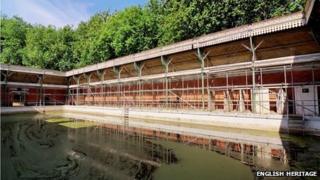 Renovations to the roof and structure of a crumbling lido in Reading could be carried out while delays in the council's planning process continue.
The authority cited high volumes of planning inquiries for the hold up in the application to develop King's Meadow Baths into a £3m spa complex.
It said a separate application had been submitted which, if approved, would allow minimal works to be carried out.
Developer Thames Lido Ltd said the work to the Grade II baths was "essential".
'Spider's web'
A spokesman for Reading Borough Council said the authority hoped to reach a decision on the new application "within a month".
Arne Ringer from Thames Lido Ltd has said the building is "falling to pieces".
"It is essential for us to try and retain as much historical fabric of the building as possible," he said.
He said the focus of the renovation work was the roof, which would be replaced and insulation added.
"Any major collapse of the structure would be very difficult to bring it back into shape," he said.
"It's like a spider's web - if one part collapses another part will fall down with it."
Community group King's Meadow Campaign had endeavoured to renovate the lido, but only raised £10,000 in two years.
In October, the council selected the spa complex as its preferred choice for the renovation of the baths, after putting a 250-year lease out to tender.