Boris Berezovsky inquest: Tycoon 'feared he had been poisoned'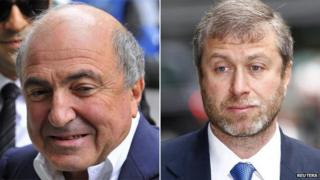 The daughter of Russian tycoon Boris Berezovsky said he thought he had been poisoned in the days after losing a £3bn legal fight with Roman Abramovich.
Elizaveta Berezovskaya said her father told her "something strange was happening to him" and "some chemical reaction was inside him".
They later realised he was suffering from depression, she told his inquest.
The coroner recorded an open verdict, saying the evidence did not disclose the means by which his death arose.
Statements made by Ms Berezovskaya were read out at Windsor Guildhall by Berkshire coroner Peter Bedford.
The court heard a detailed discussion about the knots tied in the scarf that was used as a ligature in Mr Berezovsky's death.
'Strangled by someone'
Home Office pathologist, Dr Simon Poole, who carried out a post-mortem examination, said there was nothing to indicate any other people were involved.
There was also no evidence to suggest Mr Berezovsky was poisoned, according to investigations by specialists.
But Professor Bernd Brinkmann, who deals with hanging and asphyxiation cases, said the marks on Mr Berezovsky's neck could not have come from hanging.
He said they were "far away from the typical inverse 'V' shape" usually seen, whilst the congestion to Mr Berezovsky's face was also not consistent with hanging.
He said he believed the businessman was strangled by someone else and then hanged from the shower rail in the bathroom.
Mr Bedford said: "You conclude that you believe that this was a strangulation by a third party."
But he warned him against going into the "realms of speculation" when he said he believed two people were involved.
Ms Berezovskaya also claimed a number of people were a threat to her father, a former Kremlin insider.
Asked what she meant by this as she gave evidence, Ms Berezovskaya said: "Because he was a target, always. My father was a very serious political figure."
But the inquest at Windsor Guildhall also heard that, in her first statement on 24 March last year, she said she thought he had killed himself and that he had often spoken of doing so.
"It was obvious to me that the cause of my father's suicide was deep depression and severe suffering," she said in her statement.
The inquest also heard she later wrote a letter to the authorities on behalf of the family, which said it was widely believed he took his own life and therefore "any extended police investigation to us is unnecessary".
Questioned about the contradictions, Ms Berezovskaya said that although in the months after his death she was willing to accept he killed himself, "the more I thought, the more doubts I had".
Chauffeur decapitated
On Wednesday the inquest was told the exiled Mr Berezovsky had been a "broken man" after losing a £3bn damages claim against Chelsea owner Mr Abramovich and facing several other costly litigations.
It heard that following the 2012 court case, which found in favour of Mr Abramovich, Mr Berezovsky became depressed.
He often spoke of killing himself as he felt both his bank balance and his reputation had been damaged, the inquest was told.
His body was found on 23 March last year, on the bathroom floor of his home in Ascot, Berkshire, with the scarf ligature around his neck.
Police confirmed the Russian exile's cause of death was "consistent with hanging".
The 67-year-old amassed a fortune in the 1990s following the privatisation of state assets after the collapse of Soviet communism.
But his wealth is thought to have considerably diminished in recent years, leaving him struggling to pay debts in the wake of the costly court cases.
He said he was £200m in debt and complained he was not a billionaire, but "the poorest man in the world".
Mr Berezovsky survived numerous assassination attempts during his life, including a bomb explosion that decapitated his chauffeur.
He emigrated to the UK in 2000 and was granted political asylum in 2003 on the grounds his life would be in danger in Russia.
The inquest continues.