Boris Berezovsky inquest: Roman Abramovich legal loss hit tycoon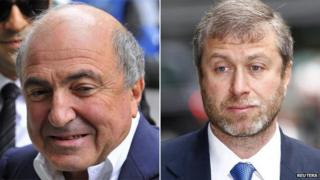 A Russian tycoon was a "broken man" in the months before his death after losing a legal fight with Chelsea FC owner Roman Abramovich, an inquest has heard.
Boris Berezovsky, 67, was found on the bathroom floor of his Ascot home last year with a ligature around his neck.
The inquest in Windsor heard from his bodyguard who said he was "very low" in the four months before he died.
In 2012, he lost a £3bn ($4.7bn) damages claim against Abramovich..
The tycoon amassed a fortune in the 1990s following the privatisation of state assets after the collapse of Soviet communism.
But his wealth is thought to have considerably diminished in recent years, leaving him struggling to pay debts in the wake of costly court cases.
Decapitated chauffeur
Avi Navama, Mr Berezovsky's bodyguard of six years, told the inquest at Windsor Guildhall that he was "very low" and "depressed" in the time before his death.
He said he was £200m in debt and complained he was not a billionaire, but "the poorest man in the world".
Mr Navama's wife, Zoe Watson, also described changes in Mr Berezovsky's behaviour.
In a witness statement read before the court, she said: "The Mr Berezovsky I knew was a dynamic, larger than life personality who became someone who withdrew into himself and became a shell of the man I once knew."
But following the loss to Mr Abramovich, he "looked broken" and was taking strong anti-depressants, she said.
The coroner opened the hearing by stating he discounted theories in some press reports that Mr Berezovsky had faked his own death.
Police confirmed the Russian exile's cause of death was "consistent with hanging".
Mr Berezovsky survived numerous assassination attempts during his life, including a bomb that decapitated his chauffeur.
He emigrated to the UK in 2000 and was granted political asylum in 2003 on the grounds that his life would be in danger in Russia.
Following his death, specialist officers in chemical, biological, radiological and nuclear substances examined his country mansion before declaring it safe.
Mr Berezovsky was a former Kremlin power broker whose fortunes went into dramatic decline as Vladimir Putin established himself as Russian president.
He had played a role in Mr Putin's rise in the late 1990s, but went into opposition and then self-imposed exile in the UK as the new president consolidated his power.
He remained a wanted man in Russia until his death and was, for a long time, dedicated to opposing the Russian leader.
The inquest continues.