Burns victim Mike Barton to live in tent for 366 days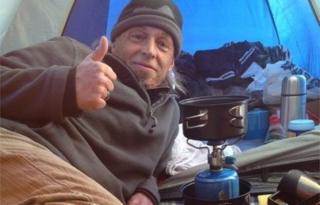 A man who suffered horrific burns in a house fire as a four-year-old has begun a charity challenge to live in a tent for a year-and-a-day.
Mike Barton said he lost his childhood after a third of his body was burned in the blaze at his family home in Bolton.
The 46-year-old, who now lives in Newbury, Berkshire, said he wanted to avoid "simple" challenges and set up camp three weeks ago.
He will travel across Britain to spread a fire prevention message in schools.
His next stop will be in Oxfordshire in the coming weeks.
'Woken at 3am'
Mr Barton, who is self-employed and plans to continue to work during the year, is buying his own supplies and will pitch up at campsites during his travels.
He said the blaze changed the early part of his life.
"I did not have a childhood," he said.
"Going into school I did not have a clue what was going on, I was called names and bullied because of my appearance. I developed into a recluse."
Explaining the challenge, he added: "I'm interested in the outdoors and extreme sports and I didn't want to do a sponsored run or a simple challenge, so came up with this.
"It's not nice being woken up at 3am with your tent trying to fly away but I'm determined to do the full year-and-a-day."
The 366-day tent challenge is raising money for burns units at the Royal Manchester Children's Hospital and the Odstock Centre in Salisbury.